The Computer-Aided Test Suite™ Graphical User Interface (GUI) has been designed specifically to work with and take advantage of the rich feature set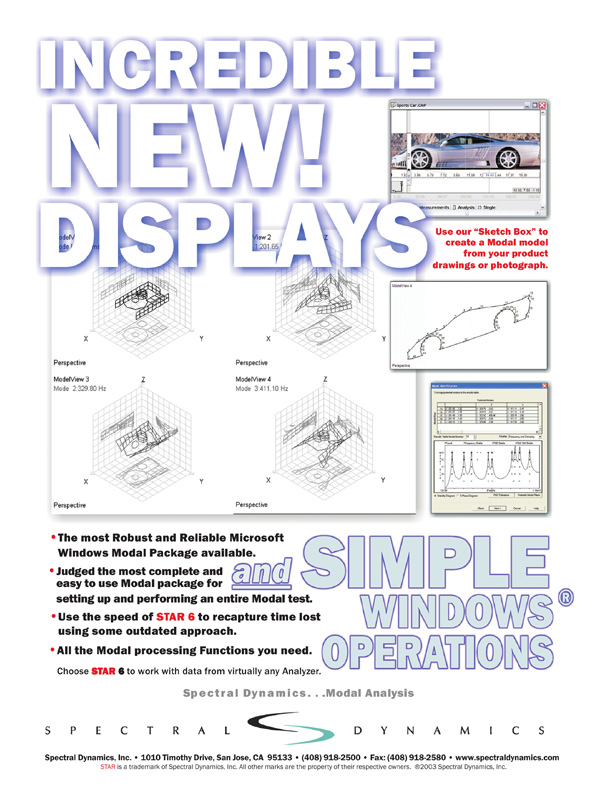 that is available in the Microsoft Windows 8.1 and 7 operating system. The interface is designed for the lab technician in mind, providing extensive productivity features to make quick work of complex test specifications. Use of a distinctive template based paradigm, allows the user to create, save and recall setups uniquely specific to each set of test criteria which, in turn, provides the capability of providing a look and feel specific to each test and/or operator. Real Time displays are at the heart of the GUI and provide the ability to integrate live data with previously stored data. Each calculated function is available in both live and post analysis mode. All of these capabilities culminate in the ability to easily and quickly create and print either simple or complex test report documents.
Consistent and intuitive interface across ALL applications.
Designed and developed for Window 8.1 and Windows 7.
Template based architecture allows for personalized look and feel.
Ability to analyze Real Time and Stored Data Simultaneously.
Most flexible and comprehensive interface available anywhere.
Extensive set of automation and productivity features.
Integrated design suite provides for cross application sharing of data.
Network aware architecture allows for Remote Monitoring and Control.
User Friendly
The CATS graphical user interface provides a user friendly operation from setup to report preparation. Customize the interface so that it's easy to use for new and expert users. Protect against unauthorized use by setting security levels, allowing changes to the setup or test, with each user having their own security permissions. CATS software provides flexibility for display and analysis of data and allows seamless report generation in the Microsoft Windows environment.
Extraordinary Graphics and Reports
The Computer-Aided Test Suite provides a consistent, intuitive graphics capability across all software applications. Whether you are creating a report on a PUMA Shaker Control and Analysis System or viewing live test data from across the network with NetViewer, graphics controls are identical. It provides extraordinary capability to display, analyze and report data. Previously stored data may be superimposed upon live data during a test. Data traces of different sample rates and frequency spacing may be overlaid in the same graph. View time, frequency and SRS data in a true Windows environment with peak cursors and trace color control.
Object Linking and Embedding
All CATS applications include support for Object Linking and Embedding (OLE) of graphics into other OLE-compliant documents, such as Microsoft Word, Powerpoint, and Excel. These OLE-compliant documents can be used as report templates, with specific layouts, corporate logos, test descriptions, pictures, and diagrams.   Once a graph is embedded in a document the CATS graphics controls may be activated by "double-clicking" on the graph in the document. In addition to using OLE to embed graphs in other OLE-compliant documents, objects may be embedded in graphs. This allows pictures, logos and spreadsheets to be embedded in graph page layouts.
Custom Multi-Page Reports
Custom multi-page reports may be created, including logos, data plots, test parameter listings, pictures, and test summary information. The user has virtually unlimited capability to customize reports, including multiple cursors, annotation, font, and color selection. Live tags may be added to plots to automatically extract test and data attributes from live data or stored files. Support for OLE within the Spectral Dynamics Viewer application means the objects like pictures, video and spreadsheets can be embedded within the test display.  This means elaborate test reports can be set up and printed from within the test application, without having to export data to another application.  Once created, report layouts may be stored and re-used. The user can create a library of report layouts that can produce impressive multi-page test reports with just a few mouse clicks.