PUMA / COUGAR Vibration Control and Analysis System


Download technical specifications
 Revolutionizing Vibration Testing
PUMA (Cougar for portability) utilizes Spectral Dynamics' innovative Computer-Aided Test Suite™ (CATS) architecture. Both take full advantage of the PC's powerful Intel processor and Windows technology. Optimized for multi-tasking, and founded on industry connectivity and data interchange protocols, the CATS make your entire test and validation process more timely and efficient.
Versatile Test Capabilities
The Computer-Aided Test Suite™ vibration control and analysis appl
ications were designed to meet a wide range of test requirements. With scalable hardware and softwa
re the Vibration Control and Analysis System combines the simplicity of operation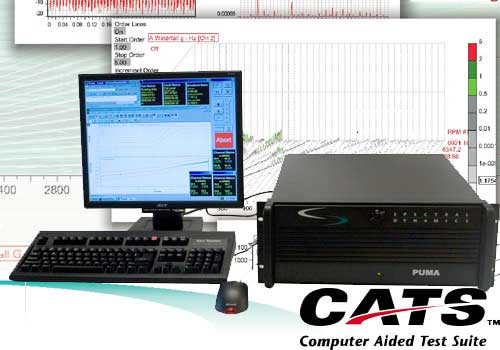 required for production screening with the power and versatility required for R&D prototype testing.
• 4 to 32 input channels with ICP
• Analysis to 40 kHz with 12,800 lines
• Scalable h/w and s/w architecture
• Powerful Multiple DSP architecture
• Comprehensive vibration test capabilities
• Extensive laboratory integration and test automation features
Superior Control and Analysis
PUMA will meet the most stringent test requirements. PUMA incorporates high quality data acquisition and signal generation hardware designed with the latest floating point DSP technology with patented digital vibration control methods. ADAPTIVE CONTROL permits PUMA to "see the future" and adjust the control speed in real time to the next measure of error that is about to happen. This 'look ahead' feature allows the PUMA to control problems lesser systems don't even understand.

Built By the Experts
Spectral Dynamics patented the FFT analyzer in 1968, and the digital vibration control system in 1969. Over the next eight generations of systems, SD perfected and patented industry-leading vibration system technologies. Now PUMA revolutionizes test methodology from setup to report and delivery.
Features and Applications
---
Random
The single most important issue in Random testing after accuracy is correct random energy. This means the excitation energy must be, not only random in frequency, amplitude, and phase but constantly changing as well. Incorrect random energy causes the test to fail to conform to industry test standards.
Star Analyzer
A standalone software package that offers unsurpassed analysis for variable speed measuring applications, along with general purpose signal analysis.
Sine
CATS Sine software offers a complete solution for your swept sine testing needs. With tracking filter processing in DSP's on input channel cards large channel count swept sine tests can be performed without degradation in control loop performance.
Modal Acquisition
Designed specifically for acquiring data for Modal Analysis. Some of the Modal specific acquisition capabilities include automatic incrementing of modal DOF during acquisition, ability to set up multiple tables of DOF numbers and directions for efficient management of modal data...
Rotating Machinery Analysis
The RMA package is a PC-based system which operates with PUMA and COUGAR hardware to offer the best possible acquisition and analysis of vibration and noise data in variable speed measuring applications.
Shock Synthesis
SRS Synthesis provides a robust capability to generate a nearly unlimited number of waveforms that will match your specified SRS.
Sine on Random
Sine on Random (SOR) starts with the same high quality Random signal generation and control quality that Random employs. Tones are added with the same quality of signal generation and sweep capability that Sine employs.
Signal Analysis
The Computer-Aided Test Suite™ Signal Analysis program provides a comprehensive set of tools for data acquisition and signal analysis.
Random on Random
Random on Random simulates  complex narrowband random on broadband random vibration environments.  Narrowbands may be swept or stationary.This vibration environment is typically seen in reciprocating equipment, repetitive impacts from tracked vehicles, and aircraft gunfire vibration.
Graphics
The Computer-Aided Test Suite provides a consistent, intuitive graphics capability across all software applications.
Road Simulation
Road Simulation makes it possible to reproduce actual measured time history vibration data in the laboratory on a shaker system. Extensive time history editing features enable large sets for field data to be easily reduced to the desired test time history.
Application Tools
Networking, test automation, organize test information with database tools, virtual calculator...
Classical Shock
Shock employs a patented adaptive equalization technique. Not a "Once per test", amplitude only correction, but "adapts amplitude and phase" on every shock pulse to correct for non-linear conditions on both hydraulic and electrodynamic exciters.