Road Simulation makes it possible to reproduce actual measured time history vibration data in the laboratory on a shaker system. Extensive time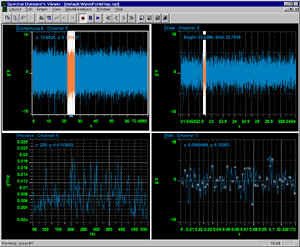 history editing features enable large sets for field data to be easily reduced to the desired test time history.
Features:
Time domain editor for analysis and editing of field data (resample, truncate, copy, cut, paste, append, filter)
Filter (low pass, high pass, band pass) any segment or entire waveform
Output time history limited only by available throughput disk space (up to 18 Gbyte)
Convolution filter corrects for changes in system response during output
Auto gain adjust provides nearly instantaneous correction for gain level change
Spectral Dynamics convolution filter technique corrects for shaker system response and accurately replicates time histories.
---
Road Simulation Product Brochure & Technical Specifications
| | | |
| --- | --- | --- |
| (click to expand) |   |   |
| |   | |
|   |   | Download as PDF |