CATS™ SRS Synthesis provides a robust capability to generate a nearly unlimited number of waveforms that will match your specified SRS.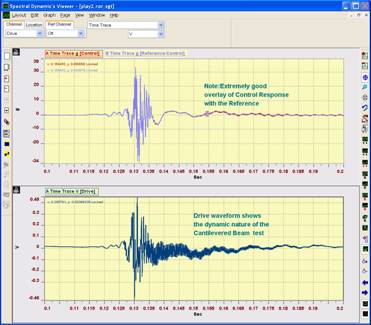 Transients may be manually or automatically generated from either damped sine or wavelet components with user specified optimization.

Adaptive Control allows PUMA to learn your structure and rapidly resolve its unique dynamic characteristics (including phase changes during the test), producing very accurate tests.

Exceptionally powerful Digital Signal Processing permits many parallel computations so all channels and resultant data may be viewed instantly and simultaneously.
Features:
SRS analysis capability from 1/1 octave to 1/24 octave
Automatic wavelet synthesis and convergence from SRS reference
Optimization for time, displacement or acceleration
Extensive wavelet editing capabilities
Patented adaptive control technique for control of non-linear dynamics, not "Once per Test System ID"
Sophisticated drive compensation management to decrease equalization time for repetitive tests
Direct "Office" Reporting with PDF creation
---
Shock Synthesis Product Brochure & Technical Specifications
| | | |
| --- | --- | --- |
| (click to expand) |   |   |
| |   | |
|   |   | Download as PDF |