Smart Interface Panel System (SIPS™)
accommodates front-end wiring and
special function signal conditioning requirements for differential or single-ended constant voltage / constant current, bridge completion, shunt cal, AC/DC coupling, and remote sense.

Learn More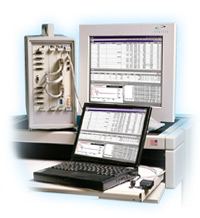 VIDAS (VXI Data Acquisition System) is the merger of SD-VXI hardware and IMPAX-SD software for an integrated turn-key system solution.  These systems are designed for applications requiring both high-resolution-high-speed transient data acquisition and long duration high-resolution backup recording.  Large channel counts up to 1024 simultaneous channels.  Frequency range from 50 kSa/s/ch to 4 GSa/s/ch.


Learn More


Learn More