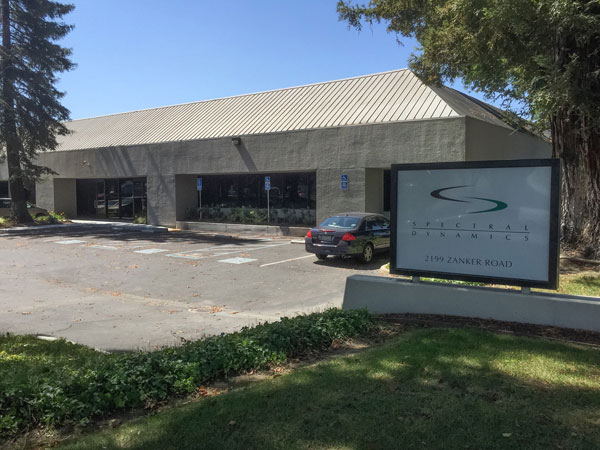 Spectral Dynamics is a leading worldwide supplier of systems and software for vibration testing, structural dynamics and acoustic analysis. Spectral Dynamics' products are used for design verification, product testing and process improvement by manufacturers of all types of electronic and mechanical products. A privately held corporation with more than 100 employees, Spectral Dynamics has offices in San Jose and San Juan Capistrano California, Detroit Michigan, Baltimore Maryland, France, Germany, India and the United Kingdom as well as sales and service representatives worldwide.
Spectral Dynamics, Inc.
Main Office
2199 Zanker Road
San Jose, CA 95131-2109
Tel: (800) 778-8755
Fax: (408) 944-9403
Spectral Dynamics, Inc.
PIND Products
32234 Paseo Adelanto, Ste. G
San Juan Capistrano, CA 92675
Tel: (760) 761-0440
Fax: (949) 481-9644
Spectral Engineering
2430 Auto Park Way
STE 202
Escondido, CA 92029
Tel: (760) 761-0440

 SPECTRAL DYNAMICS INC. Policy on Supply Chain Transparency Concerning Modern Slavery and Human Trafficking
Composition:
Spectral Dynamics, Inc. Founded 1961.
TimeData Corp., later GenRad Structural Test Products (STP) Founded 1966.
Dunegan/PIND Testers Founded 1968
Synergistic Technology Incorporated (STI) Founded 1978.
Structural Measurement Systems (SMS) Founded 1979.
Accomplishments:
Continuous operations since inception.
Spectral Dynamics designed and first offered for sale the analog tracking filter in 1961.
GenRad/TimeData introduced and patented the FFT analyzer Patent # 3,638,004 1968
GenRad patented the first Digital Shaker Control System Patent # 3,710,082 in 1970
GenRad patented RANDOM Digital Shaker Control employing a time domain randomization technique Patent # 3,848,115 in 1972
GenRad patented the Structural Analysis System in 1983 Patent #4,061,017
STP produced and patented the first digital signal synthesis capability for a closed loop control system in 1983 Patent # 4,782,324
GenRad patented the first computer-based calibration method capable of adjusting gain & phase match between multiple input channels with Patent #4,937,535 in 1990
STP produced the world's first system capable of Adaptive Control for Shock Testing Patent #5,517,426
STP produced the world's first Adaptive Control System for Random Testing
SMS produced the first MODAL Analysis software for Hewlett Packard measurement systems in 1979
SMS created the first Windows based Modal capability (STARModal®) in 1983
STI introduced the world's first commercial MultiExciter (waveform) Replication Control System in 1978
STI introduced the world's first commercial Stepped Sine Modal excitation in 1978
STI produced the world's first MultiExciter Digital Sine Control System in 1980
STI produced the world's first MultiExciter Digital Random Control System in 1982
STI produced the world's first Adaptive MultiExciter Control System 1990, US Patent #5,299,459 and EU Patent #0521853
Spectral Dynamics was acquired by Scientific Atlanta in 1978. General Radio, later renamed GenRad, acquired TimeData Corp. in 1978. Jim Tucker and Stewart Slykhous acquired Dunegan/PIND testers in 1988. In 1989 GenRad STP acquired Structural Measurement Systems, including the STAR product line. In 1993 PIND Testers acquired Spectral Dynamics from Scientific Atlanta and changed the company name to Spectral Dynamics, Inc. In 1995 the new Spectral Dynamics acquired the Structural Test Products division of GenRad, including the former Structural Measurement Systems product line STAR. Spectral Dynamics, Inc. acquired Synergistic Technology Incorporated in November 1996.
About VXI Products
VXI Products developed and manufactured by the Advanced Research Products Group, is the newest addition to the Spectral Dynamics family. The AR products group (originally DSP Technology Inc.) established a name for itself in the mid 1970's. The AR Group has a long-standing tradition of designing dependable high performance CAMAC and later VXI data acquisition products and systems. The Spectral Dynamics credo of standing behind what we build is as true today as it was 30 years ago. The AR group products are no exception. Our newest VXI data acquisition hardware not only pushes the envelope on capabilities, it embodies the same rock solid design methodologies, which have always differentiated us from the competition. When combining this type of hardware and software expertise with the highest quality pre and post sales, field and in-house support you can be confident of mission success.