VIDAS
Spectral Dynamics' VXI Data Acquisition System (VIDAS) is a high bandwidth measurement system that pushes the limits of transducers and techniques.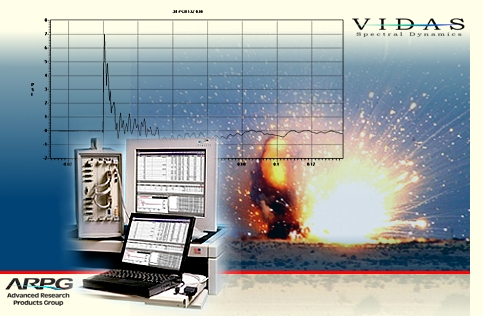 VIDAS System Solution from The Advanced Research Products Group (ARPG™) of Spectral Dynamics offers VIDAS (VXI Data Acquisition System), high performance VXI hardware & software solutions. VIDAS combines dynamically scalable channel count versatility with features you need and critical performance for your testing demands. Our products offer superior fidelity and excellent channel-to-channel phase match for the most accurate measurements in the industry.
Highlights:

Up to 1024 independent channels
Modular, scalable design
High powered VXI instrumentation chassis
Full bandwidth flat response:

0.1dB DC to 1 MHz
2.2MHz @3dB

Up to 5M samples/sec/ch sample rate
Bandwidth licensing enables cost savings while providing future growth path
Automated end-to-end calibration
Full bridge completion available
Remote application control capability with pipes/socket server
Passive Input Panel system (PIPS™)or Smart Interface Panel System (SIPS™) accommodates front-end wiring and special function signal conditioning requirements.

Applications:

Acoustic Shock Measurement
Aircraft power system testing
Real-time knock analysis
Component test stands
Rocket testing
FAA seat testing
Highway structures development
Explosive shock studies
Electromagnetic propulsion research
Calibration labs
Hopkinson bar testing
Gas turbine testing
ARPG VIDAS Systems incorporate VXI instrumentation with a fully integrated WinXP native software package called IMPAX-SD™. It uses build-on-demand database technology to automatically manage and configure your testing environment for measurement, control, reporting and correlating data timing for high-speed and transient testing applications. IMPAX-SD eliminates manual setup/calibration operations, gives lightning fast data display, and
instant review. Real-time snapshot FIFOs allow DAS channel monitoring for reconfiguring your test on the fly.
VXI Model VX2805C

---
A complete integrated 8 channel data recording VXI module. Each channel includes a bridge signal conditioner, a low pass filter, a 16-bit 5.0M samples/sec/ch ADC, and 16M samples of PS-RAM storage per channel. 
View Data Sheet (PDF)
• 8 Channels Per Module
• Each Channel Includes:
      Signal Conditioning, Filter, ADC and Memory
• 16-Bit Resolution
• High Dynamic Range
• Up to 5M Samples/s/ch
• Simultaneous Sampling
• Dual Ported Memory Access (2.5M S/s and below)
• 1k Snapshot Data FIFO for Each Channel
• 2.2MHz 3dB Bandwidth
• Buffered Analog Output for Each Channel
• Overload Detection for Each Channel
• Excellent Ch-to-Ch Phase Match
• Computer Controlled Calibration
• 16M Samples Storage per Channel
• Multi-Event Recording
• Digital Signal Processors
• Digital Filters, Flat Passband, Sharp Cutoff
• Internal and External Triggering
• Pre- and Post-Trigger Recording
• Gated Mode
• Dual Clock Rate Data Recording
• Constant Voltage Excitation
• SIPS Communication Port
• Fully Programmable
• Memory Battery Backup Capability
• Single Width, C-size, VXI Module
• Advanced Multi-Chassis Phase Clk & Triggering
• ECL Clock & Trigger Capabilities
• Supports Bandwidth Licensing (BWL)
Spectral Dynamics offers turnkey solutions, custom engineering, or system components and drivers, for build-your-own system solutions.